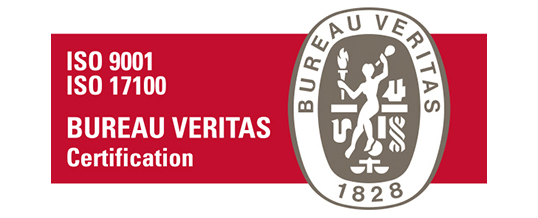 After two certification cycles in 2013 and 2014, the Translation and Proofreading Agency Profis was recertified in August 2015 for the quality management according to ISO 9001:2008 and ISO 17100:2015 standards. Independent auditors conducted regular recertification and monitoring audit in line with the norm, in all organisational units of our translation agency. Client Satisfaction Survey has also been conducted in order to determine the level of satisfaction with our translations, proofreading in Bosnian, Croatian, and Serbian, our responsiveness, and availability to clients. We were pleased to find that our clients appreciate our continuous devotion to excellence and ever improving processes and services.
During the monitoring audit, now former European translation norm EN 15038 became obsolete and transformed into an international standard ISO 17100. Experts of the international organisation for standardisation have ensured clearer translation processes, and more demanding roles of project leaders, namely heads of offices, in terms of staff competency. Taking the norm to the level of international translation standard is a proof that translating is a profession worth of standardisation.
As the only translation agency in Bosnia and Herzegovina that has implemented an integrated QM system in line with ISO 9001 and ISO 17100, we are constantly proving our dedication to process-oriented work, competence of staff and external associates, client satisfaction, and high quality of translation and proofreading services. Our services are much more than mere items of an offer, as is often the case in Bosnia and Herzegovina, since there is no incentive to stimulate improvement of translation services with regard to public procurement of services for public institutions of BiH. As a result, agencies of obscure competence and reputation are commissioned to provide translation, which eventually builds a poor image of our country in an international setting.
Share