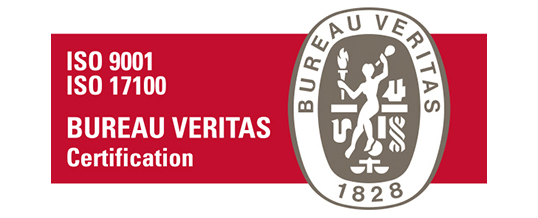 Profis is the leading professional translation agency in Bosnia and Herzegovina and the first who recognized the importance of integrated and certified business operations. In August 2012, auditors of the certification company Bureau Veritas reviewed and evaluated all our business and management processes and unanimously concluded that they met all requirements of the quality standards. ISO 9001 is the international standard covering all aspects of business process. Therefore, the introduction of ISO 9001 ensures not only the compliance with generally accepted international standard in the business organization, but also the anticipated quality of services for our clients, as expected from a certified service provider.
As for the organization itself – the Translation Agency Profis, there are manifold benefits: through the certification process, we have learned more about our advantages on the BiH market, as well as in the region; the customer satisfaction survey has shown that our clients expect high quality services and that our translations meet their expectations; and last, but definitely not the least, we have targeted even higher goals for the next audit – to achieve even higher customer satisfaction and regional participation in European and international tenders.
Therefore, we have to be at the very top in the translation business in Bosnia and Herzegovina, and our surveys and market research have proven that this is the case. By introducing EN 15038 standard and earning the certificate titled Oral and Written Translations, Language Editing and Translation by Certified Court Interpreters, Profis became the only agency in Bosnia and Herzegovina operating in accordance with the stated translation requirements. The quality of our services is proven. Every translation provided by our agency is subject to language editing free of charge. The confidentiality of data is written in capital letters, and the delivery of services and meeting the deadlines is the main pillar of our cooperation.
If you want a high-quality, professional and prompt translation that fulfils your business needs, the translation agency Profis is at your disposal. Not only are we a certified translation agency, but we are also fully devoted to our job and clients, seeking to earn wider recognition on the market of Bosnia and Herzegovina and in the neighboring countries, wherever there is a need for translation from Bosnian, Serbian and Croatian to other languages and vice versa.
Having earned the Certification, the translation agency Profis has demonstrated a high commitment to European and international business standards and thus became the most competitive translation agency in Bosnia and Herzegovina, which is ready for the BiH's accession to the European Union and cooperation with European partners, in terms of all its business aspects and requirements.
We hope that our regular as well as new clients will notice the additional improvement of our oral and written translations, language editing and translations certified by court interpreters, and that we shall together pursue even higher success.
Click on the link to see ISO 9001 i ISO EN 15038 certificates.
Share